Climate Change The Facts – As Seen In The Mirror
I've already brought this subject up in a comment on John Ridgway's latest post. But I'll labour the point because I think it does bear labouring and it's indicative of a disturbing trend in climate change activist circles now to ignore science, ignore evidence and basically make stuff up, which is then re-packaged as 'facts' which conform to the extreme alarmist narrative which they hope will spur people into taking action or accepting extreme policies.
Oreskes is now openly criticising the IPCC and economists for being too conservative in their science-based judgement of the risks posed by climate change. She accuses them of being biased against worst case scenarios in order to achieve consensus. She might equally have accused them of being biased against low risk scenarios also in order to achieve consensus, but this does not seem to occur to her strangely enough. The IPCC are not alarmist enough now for the likes of Oreskes and Extinction Rebellion, simply because they don't put sufficient empahsis on the extreme worst case scenarios.
Pielke Jr. takes her to task for this opinion. He says:
An example of the delegitimization of mainstream climate science from climate advocates can be found in today's New York Times in an op-ed by historian Naomi Oreskes and economist Nicholas Stern. They advance a broad claim that "climate scientists have been underestimating the rate of climate change and the severity of its effects." Scientists are not alone in their mistaken views, they argue, economists also show systemic biases too because they "underestimate the economic impact of many climate risks and to miss some of them entirely."
Some climate advocates may see potential political advantage in trying to create a public perception of emergency and crisis. To achieve this perception may require undercutting legitimate scientific assessment bodies such as the IPCC, which has not endorsed the language of catastrophe or apocalypse. But delegitimization tactics also pose risks, as maintaining public trust in science and scientific institutions may be a key factor in securing a political consensus on policy action.
He's saying what we all strongly suspect: climate activists are deliberately overplaying the risks of climate change in order to justify radical policies. In doing so, they seek to delegitimise even mainstream climate science as somehow being 'biased' in favour of not stressing the extreme risks and therefore sending out the 'wrong' message re. the need for very urgent remedial action. In doing so, they also threaten to undermine the whole idea of fact-based policy making.
Extreme risks = possible worst case scenarios = tail end risks = highly unlikely but theoretically possible. Climate activists would prefer that the public were not cognisant of this simple definition. They would prefer instead that the public focus more or less exclusively upon these worst case scenarios as 'real' and therefore they have reframed these high risk/low probability future projections of climate change and impacts as 'facts'. To lend unearned credibility to these 'facts' they are busily expropriating virtually all current instances of extreme weather resulting in property damage, financial loss and/or loss of life as not simply weather but "climate impacts". That way they get to make the false claim that it's bad now and it's going to get even worse in the future if we don't do something immediately to fix the climate, which apparently is broken and in need or urgent repair.
Take for instance Mark Lynas, an 'environment/science writer' with 24,000 followers on Twitter who posted a few photos of the River Wye currently in flood due to heavy rain and said:
David Rose pulled him up on it by replying:
He responded by saying that David would have to wait to read his book. Well, you would, wouldn't you, if you were trying to sell a fake crisis and sell a book to make money out of it in the process. But we don't have to wait for Lynas's book to get the answer. Here it is, courtesy of empirically measured monthly (October) rainfall in England and Wales – rather closer I would imagine to actual fact (within the limits of measurement error) – than Lynas's random assertions regarding the current weather.
Will 2019 set a new record? Probably not, but even if it did, it would not be evidence of any long term signal of climate change. There isn't any. But this won't stop Lynas and many others like him from continuing to plug the climate crisis narrative by co-opting the highly variable British weather into their cause. Which takes us neatly to the Mirror's list of climate change 'facts', the existence of which apparently means that we, as a society, must act, and which Tamsin Edwards has sadly lent her scientific credibility to by choosing to be on their panel of 'experts':
Facts that mean we must act
1. The increase in ocean temperatures means that we are set to lose between 70% and 90% of the world's coral reefs.
2. Floods in the UK have become more frequent. In 2000, we had the highest level of rainfall since records began at 337.3mm, topping the 330.7mm of 2012.
3. Globally, the six warmest years on record were notched in the last seven years – and it is predicted that by 2050, the UK is facing a trebling of deaths caused by heat.
4. This year saw the UK experience the hottest temperature since records began. It was 38.7C at the Cambridge University Botanic Garden on Thursday, July 25.
5. A study found 68% of all extreme weather events, including droughts, flooding, hurricanes and tropical storms, were either made more likely to occur or more severe.
6. Our cities are getting hotter. A rise in global temperatures of only 1.5 degrees centigrade will leave 350 million people at the risk of heat stress.
7. The Arctic ice cap has shrunk in every successive decade since 1979.
8. Glaciers in Central Europe, Caucasus, North Asia, Scandinavia, the Andes, eastern Africa and Indonesia are expected to lose 80% of their mass by 2100.
9. More than 1.1 billion people – 17% of the population – could face life with severe shortages of water.
10. Farming will suffer. If global temperatures rise by another two degrees centigrade this will see a fall in livestock production by between 7% and 10%.
11. There has been a 60% decline in wildlife populations in 40 years. A report found that of 976 species, 47% of extinctions could be blamed on the effects of climate change.
12. Experts predict that climate change could force between three and 16 million people into extreme poverty because of rising food prices and crop failures.
13. Illegal logging, fires and deforestation have led to 20% of the Amazon rainforest vanishing in the past 50 years.
15. Oceans are dying, with 30% of sharks and rays and 27% of crustaceans on the brink. Rising temperatures and pollution have created 500 dead zones – areas without oxygen and life.
16. According to a 2016 report by the Joseph Rowntree Foundation, climate change will cause global food prices to rise 20%.
17. 800 coastal homes in the UK could be lost by 2034 says The Environment Agency. Sea levels are set to rise by 80cm by the end of the century.
18. The World Bank has estimated there could be 140million climate change migrants by 2050 because of high temperatures, crop failures and flooding.
20. Crop failures and the increased risk of flooding could lead to mass migration across the globe.
21. The World Bank has warned there could 140million climate change migrants by 2050.
I'm not going to even try to go through each and every one of these 'facts' to prove what nonsense they are, but note that 11 out of 21 involve gloomy prognostications of future impacts. It should not need to be pointed out that a 'fact', to qualify as factual, must involve observations of past or present events, not crystal ball gazing. But hey, this is post normal science we're talking about here and so we can have post normal facts too I guess. As we've been talking about flooding, which is topical at the moment, let's examine just one of the Mirror's facts: 'Fact' 2. Floods in the UK have become more frequent. In 2000, we had the highest level of rainfall since records began at 337.3mm, topping the 330.7mm of 2012.
Here is the graph of annual rainfall in the UK since 1910. As you can see, if 337.3mm was the record, the UK would be more like southern Spain I think!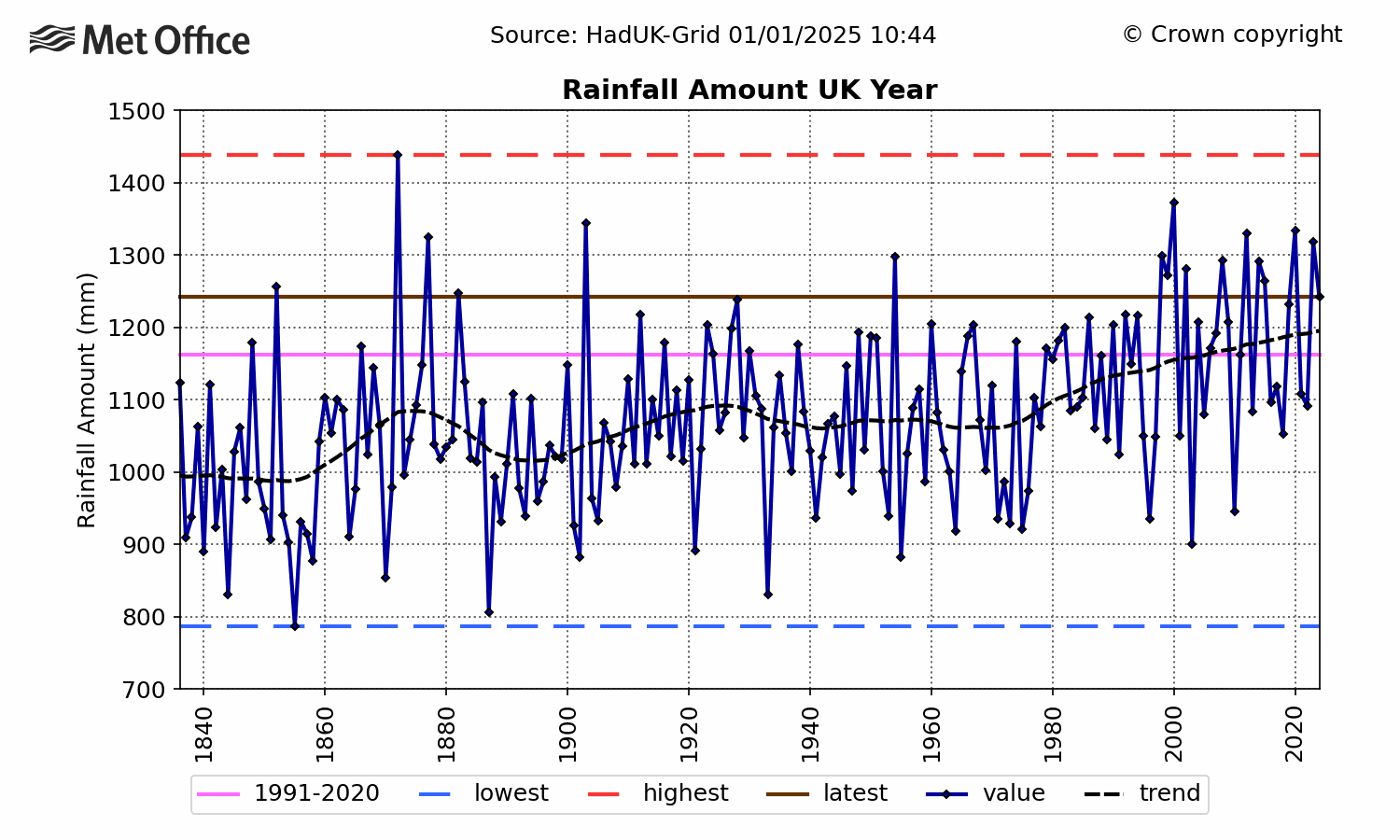 Yes, record rainfall near 1340mm was recorded in the years 2000 and 2012. Yes, annual rainfall has increased quite dramatically in the UK since 1970 and it now appears to have peaked and be on a downward trend. Sadly, for climate change alarmists, there is an even longer record of precipitation – at least for England and Wales – which goes all the way back to 1766. Let's look at that shall we:
Oh dear, not so scary. The peaks in 2000 and 2012 still stand out, which gives us confidence that the two records are compatible but, sadly for those of the climate alarmist persuasion, it reveals no definite trend in annual rainfall over the entire period, a peak in the 1870s exceeding even the 21st century and yet another peak in the 1770s. Blimey, you don't think rainfall in the UK could be like, cyclic, do you? That would really mess up the 'it's worse than it's ever been and it's even worse than we thought it was' narrative. Best stick to the shorter UK time series.
The public are being asked, nay required, to give up their gas boilers and their cars, and thus are rightly entitled to the facts which justify these extreme measures. What they are being dished up with instead is half-baked lies, uninformed opinion, worst case scenarios based upon bad science and diagnostic analyses of bad weather based upon equally bad science or, increasingly, based upon nothing but an activist's whim.