Met Office Hadley Centre Celebrates 30 Years Of 'Science Advocacy'
'They think it's all over; it is now'. After 30 long years of meticulous and dedicated research, the Met Office has kicked the doubters into the back of the net and proudly announces that:
The first 30 years
The impacts of climate change are already evident both in the UK and worldwide, through rising temperatures, diminishing snow and ice, rising sea levels and changes in extreme weather events. The development of global observation datasets such as HadCRUT (Hadley Centre and Climatic Research Unit global mean surface temperature dataset) and advances in attribution science have allowed these changes in our climate system to be detected and the human influence on these changes to be quantified.
The subsequent generations of Met Office HadGEM family of climate models have helped understand the importance of processes related to aerosols and clouds, and carbon cycle feedbacks. These models also demonstrated that it is possible to make skilful and meaningful predictions of future climate on seasonal to decadal timescales to provide early warnings and on centennial timescales to inform adaptation and mitigation. I'm particularly proud of the unique use of a seamless modelling system, developed in the Met Office over the last 30 years, allowing us to test the physical basis of our climate models through verification of weather forecasts and seasonal predictions.
Peter Stott goes one better and is quoted by the Guardian:
"The climate now is completely different from what we had 30 years ago. It is completely outside the bounds of possibility in natural variation," said Peter Stott, a professor and expert on climate attribution science at the centre.

"We are seeing an unprecedented climate," Stott said. "The human fingerprint is everywhere."
Gosh. I remember 1990. I recall it was a really hot summer and the sea was bathwater warm, something I'd not experienced previously. I don't remember Thatcher opening the Hadley Centre and I don't specifically recall the weather throughout the year of 1990 being so radically different from today's weather, but that's just weather of course; we can't really 'feel' climate change – even, I guess when it's unprecedented. Only the Met Office's £98 million supercomputer loaded with the latest climate models, driven with RCP8.5 in most UKCP18 climate projections can actually 'see' this human fingerprint – plus privilieged Met Office personnel like Stott of course. According to Stotty, these fingerprints are literally everywhere. I must get me some climate specs like Stott of the Met has.
But this Spring has been the sunniest in the UK since records began in 1929, so that's 'unprecedented' I guess. Completely outside the bounds of natural variability due to man-made global warming? Hmmm, I'm not so sure. The 'weather' has been largely responsible too, courtesy of a jet stream bringing in air from the east and north east throughout much of the glorious three months of Spring. Sadly, this does mean that it hasn't been unprecedentedly warm, a scenario which one would naturally expect if man-made global warming was dabbing its grubby prints literally everywhere. In fact, over the last decade or so, Springs have stubbornly refused to get warmer even though we've been pumping ever more heat trapping gases into the atmosphere: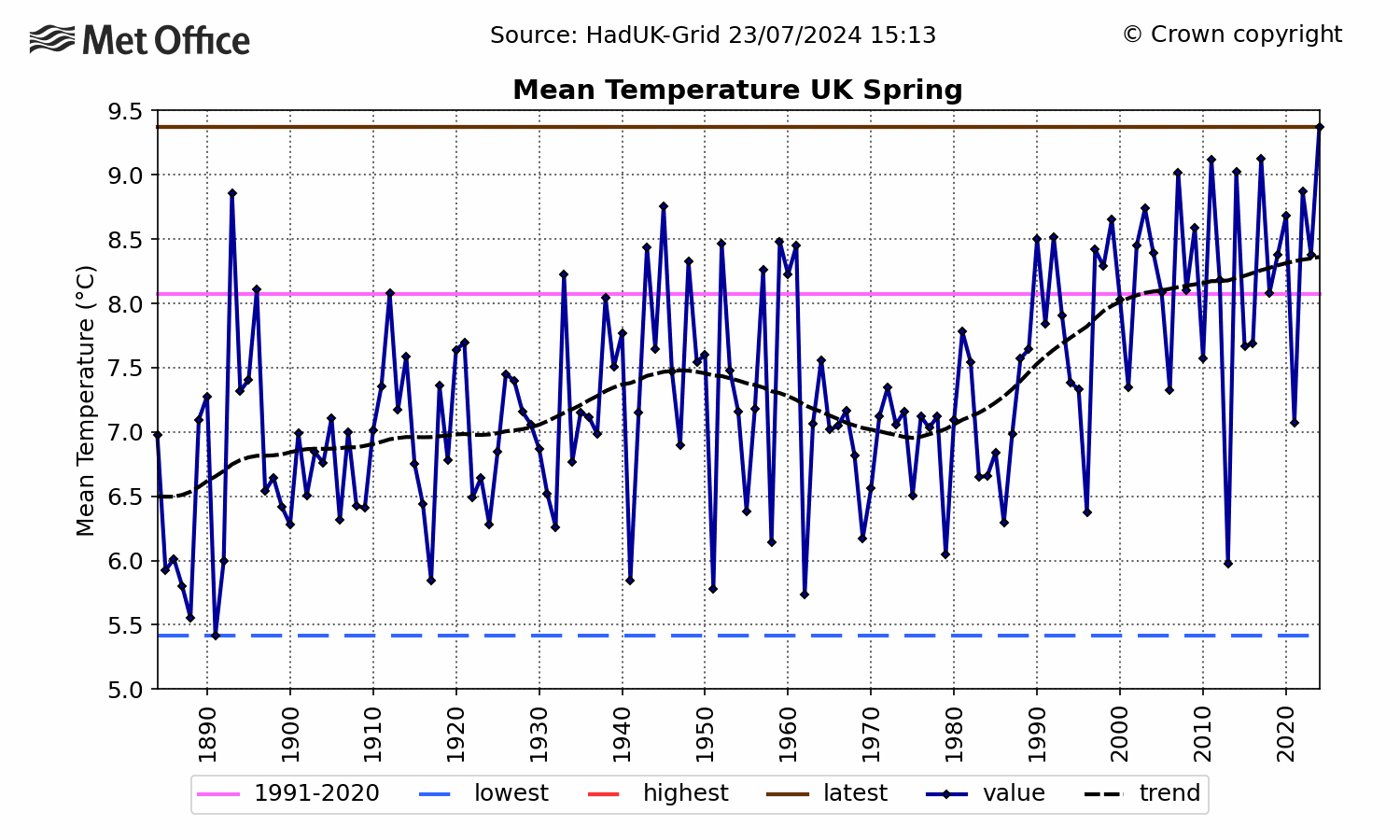 So, after boasting about its ground breaking research which showed us beyond all doubt that human-caused climate change was real and 'everywhere', the Met office tells us what it will be up to in the next 30 years:
In the next 30 years, the role of climate science at the Met Office Hadley Centre will evolve to one of quantifying the predicted changes in climate, and providing more detailed information on what these changes mean to individuals.
Say what? They predicted changes, but they didn't quantify them? Now they see their role as assisting society cope with the changes they predicted but didn't quantify:
How can we help societies plan for the future and manage the risks from extreme climate events and avoid impacts which are too drastic to cope with?
What are 'extreme climate events'? Also, if impacts are too drastic to cope with, what's the point in the Met Office helping to manage the risks anyway? We're all going to die – horribly – if we can't cope, presumably.
Having done all the science legwork in the first 30 years, the Met Office now clearly envisages its role as being one of advocating mitigation and adapation policies in light of the 'unavoidable' and certain changes in climate which will happen.
The next 30 years are extremely important regarding the need for stronger mitigation by proceeding towards a transition to a net zero emissions economy. Climate science will play an important part in informing adaptation to the consequences of climate changes that are already unavoidable, whilst informing the mitigation actions aiming to avoid more severe impacts. The emphasis on action and solutions implies a shift from climate science to climate services.
As a result of the Paris Agreement, the focus of climate research at the Met Office has changed to reflect these changing drivers:
moving from proving that climate change is happening and predictable to monitoring, understanding and managing current and future weather and climate risks

informing the development of strategies for lowering greenhouse gas emissions to avoid the most dangerous impacts of climate change and assessing the risk of abrupt, potentially irreversible, Earth system change (including so-called tipping points)
Betts, Stott and pals are going to be providing 'climate services', not so much 'weather services', and not climate science (cos that's all done and dusted, innit). How nice. How cushy. Employed at the public expense to advocate policies which will impoverish the public and limit their personal freedoms – rather like lockdown, but forever.
The 'settled science' with which the Met Office are going to beat the public into net zero submission comes to us in the form of the UKCP18 climate projections:
Preparing for inevitable climate changes will require more local information, an example of which is provided for the UK as part of the recently issued UK Climate Projections. Future projections require even more information on how global warming translates into local-scale changes in weather and climate extremes, such as windstorms, heat waves and coastal and inland flooding events.
As it happens, almost all of the local, regional and global climate projections in UKCP18 rely upon the now discredited RCP8.5. So, when the Met Office says there will be storms, floods, droughts, unendingly hot summers and deluge winters, what they mean is that unrealistic climate change projections based upon climate model runs using a debunked worst case emissions scenario say this.
Crap models supercharged with an even crappier emissions scenario (concentration pathway, as Betts likes to insist) will inform this crap government on how and why we need to get to Net Zero social and economic destitution in 2050. Lockdown forever. Talking of which, in conjunction with crap science and crap models:
The current coronavirus pandemic has shown the importance of an evidence-based scientifically informed approach to inform society's response to challenges. If applied to dealing with climate change this would mean that governments accept early warnings and future projections from experts about the risks (despite uncertainty) and adopt adequate measures. The recent changes in ways of working for our scientists, enforced by the coronavirus, are giving us valuable experience (such as working from home and holding virtual meetings and conferences) that we will use in future as we aim to reduce the impact of our working lives on the planet.
'Evidence-based scientifically informed approach'! Yeah, really. You couldn't make it up could you?