Planet of the Humans—Is This the Best They've Got?

I have learned that "include" is p.r.-ese for "here is everything we've got, and then some." 
                      — Andrew Tobias, The Funny Money Game
The Michael Moore documentary,
 Planet of the Humans
, has now got over five million views, and the exasperated debunkings have been pouring in. However, their litany of green energy whines has been pretty much a dribble, with nitpicks about 8% efficient solar panels, panels that only last 10 years, a deserted solar desert, soon to be resolared, biomass that's reached critical biomass, solar, wind, batteries, electric car charging grids, all from ten years ago… and that's about it for energy nitpicks. I can't continue with blah, blah, blah, because there's not that much Moore to blah, blah, blah about.
There is one more point they have, which is more substantial than a nitpick. The fossil fuels used to make solar and wind farms do not negate their CO2 savings. This is described very well in Canadian 100% RE gadfly Blair King's excellent, even handed 
review
:
The reality is that any number of well-researched life cycle analyses demonstrate conclusively that solar PV installations can quickly make up the carbon debt generated in their production and produce effective, if intermittent, electricity. Moreover, the vast majority of solar facilities are solar PV and therefore most of the critiques presented do not apply. Yes, the panels do rely on scarce resources and are hard (and often extremely expensive) to recycle and building them in deserts harms the environment, but the life cycle analyses don't lie. Solar PV is a a valuable source of low-carbon electricity as part of an integrated grid.

The arguments about wind are equally weak. Yes wind is intermittent and yes wind turbines typically are sited in locations that have lots of wind. But all energy generation has trade-offs and the life cycle analyses support wind turbines as well. Modern wind, like modern PV solar, makes absolute sense in a well-designed renewable energy mix.

I will say that IMO, Blair is soft on wind and solar. They still take up lots of space and compete with nuclear for scarce funding and resources, such as pumped storage. It's extremely doubtful they can come anywhere near the 80% of electricity generation in France.

From the outraged greens, there also seem to be a lot of low resolution, hard-to-read graphs. The Climate Crocks guy has a post with a nice selection.


The flattening green wedge in this one looks sort of like a door stop.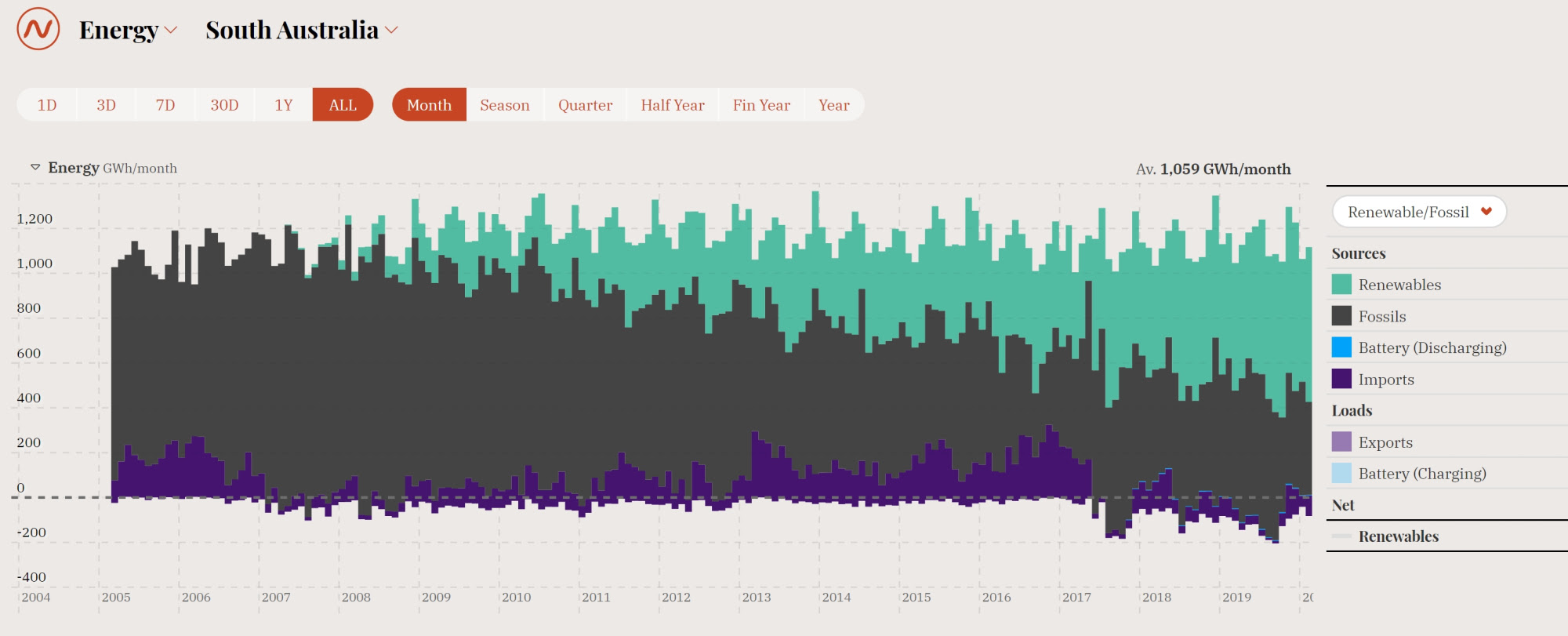 The South Australia one does not have any delineation for the growing green renewables band. It has light blue colors for their much-touted grid batteries that are nowhere to be found on the graph itself. (Perhaps with a microscope?)
There's a tweeted graph by Zeke Hausfather with no link or clue about how to read it.
You'd think they could better match block and text size.
We all know about Josh Fox's tweeted letter, which includes lots of typos, Michael Mann as a signatory and a link to Mark Jacobson's (also a signatory) peer reviewed New York plan, with its 387X100MwCSP grid resiliency. He also has a long fiery 
rant
 in the 
Nation
.
Of all the videos I found, this one was interesting, with an auburn haired woman, who looks too pale to have freckles, lamenting the lack of people of color (about 10 minutes in). Perhaps she missed the African cobalt mine.
As Charlton Heston said in Planet of the Apes, "Look at the bright side. If this is the best they've got around here, in six months, we'll be running this planet."